Services
Want to add a touch of elegance to your Holbrook, NY home? There's no better option than Four Seasons Sunrooms of Long Island for the following products and services:
Trusted Sunroom Contractor in Long Island, NY
Welcome more natural light into your home with a sunroom designed and constructed by the experts at Four Seasons Sunrooms Long Island. Few things illuminate your home's beauty better than sunlight.
The right amount of sunlight can not only make your house a more pleasant place to live, but also improve your mood and health. Furthermore, sunrooms give you more space for entertaining, relaxing, and working. Contact us today to learn how you could benefit from a sunroom and find out why we're considered a top sunroom contractor in Long Island, NY.
The Beauty of Sunrooms
Also known as solariums and four season rooms, a sunroom is a space designed to let in the maximum amount of natural light. In addition, sunrooms give expansive views of your property and grant easy access to the outdoors.
These rooms are great for everything from hosting parties and dinners to lounging with a book and working from home. You get to indulge in the beauty of the outdoors without subjecting yourself to bad weather or annoying pests. Furthermore, sunroom additions are sure to impress your guests and may even raise the value of your property significantly.
Consult with Our Designers Today
Start designing the sunlit space of your dreams by requesting a consultation with our team today. We meet with you to discuss everything from dimensions to door choices and finishes. Thanks to our extensive experience and professional resources, we can bring any plans to life.
We're pleased to also offer a number of different cost-saving opportunities for home sunrooms. For example, you may qualify for up to 40% off our products or 0% interest financing for 12 months. Talk to our team today to start planning your new sunroom and discover the special offers available to you.
Your Team for General Home Improvements
While our focus is sunroom design and construction, we also perform many other home improvements, such as:
Roofing Installation
Window Installation
Siding Installation
Gutter Installation
Patio Enclosure Construction
Deck Construction
Shade Cover Installation
Pergola Construction
Conservatory Construction
Custom Kitchen Remodeling
Reach out to our team today to discuss your goals for your property and find out how we can bring your vision to life.
Contact us to learn more about our sunrooms and get an estimate for your property. We're located in Long Island, New York, and serve clients throughout the surrounding area.
Quality Partners For Finishing Touches
When you choose Four Seasons, you are choosing quality. Quality service, quality materials and above all a reputation for quality. We also offer quality partners the opportunity to interact with consumers who have put their trust and faith in us.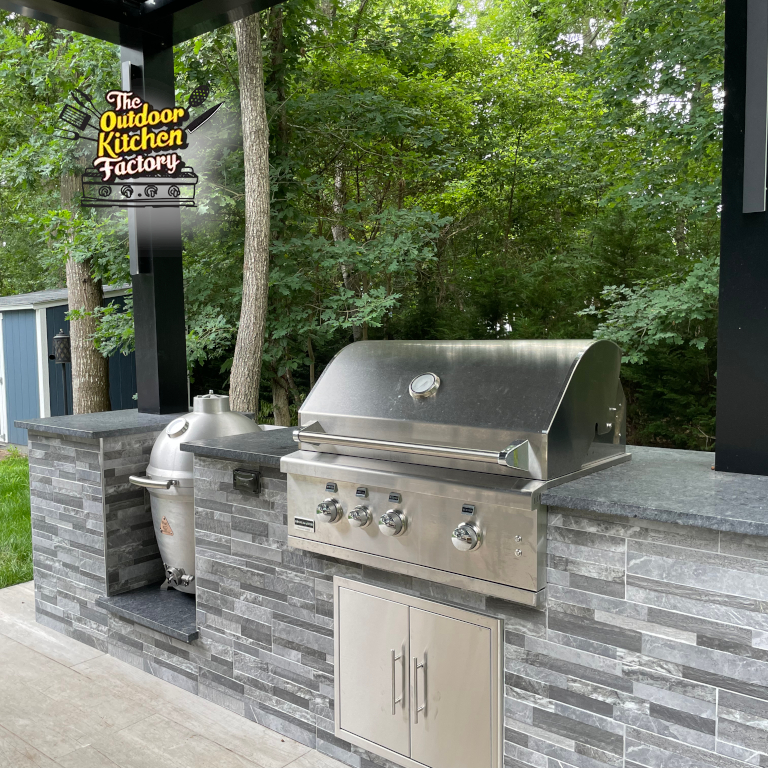 It's as easy as 1-2-3-4!
The backyard of your dreams is closer than you can imagine. With The Outdoor Kitchen Factories' simple & fast system, you'll have the outdoor kitchen you've always dreamed of in no time!
1. Pick a location You know you want an outdoor kitchen, but where do you put it? Take some time to consider what entertaining looks like in your backyard, and the optimal place to put your beautiful new kitchen. Perhaps under a beautiful new pergola, an existing patio, or both! Your yard is your oyster! (And oysters are even more enjoyable from an outdoor kitchen!)
2. Pick the shape While you can fully customize the shape of your kitchen, there are 3 very common shapes. L-Shaped, U-shaped, and Straight Kitchens. Their names say it all! The best part is, there is no wrong answer, you just need to decide which shape is the right fit for you.
3. Pick the appliances Prepare to be amazed. We have a wide variety of appliances that you can select to truly perfect your outdoor kitchen oven. From sinks and doors to grills, griddles, and even pizza stoves and fire tables, the combinations are endless!
4. Pick the top and side finishing materials The last step is to pick your top and side finishing materials. Our kitchen designer will be able to show you dozens of stone and granite samples so you can pick the perfect pair that gives your outdoor kitchen the finishing touches it needs to be your own masterpiece.
It really is that easy… the hardest part of buying an outdoor kitchen is figuring out what meal you'll be eating for its first use! (Did someone say oysters?)
Time To Get Fired Up!
Fireplaces
Our fireplaces are the epitome of charm and warmth. Crafted with meticulous attention to detail, they serve as a captivating centerpiece in any room. Whether you prefer the rustic charm of a wood-burning fireplace or the convenience of gas or electric options, our collection offers a wide range of styles and designs to complement your home decor. Experience the cozy ambiance, relax by the crackling fire, and create memories with loved ones around our exquisite fireplaces.
Stoves:
Designed to be both functional and stylish, our stoves bring efficient heating and timeless appeal to your living space. With their advanced heating technologies, our stoves provide consistent warmth and create a comforting atmosphere. Whether you desire the classic charm of a traditional wood-burning stove or the modern convenience of gas or pellet stoves, our selection offers a variety of options to suit your needs. Embrace the cozy warmth and enjoy the beauty of a well-crafted stove in your home.
Inserts:
Revitalize your existing fireplace with our high-quality inserts. Our fireplace inserts are designed to seamlessly fit into your current setup, enhancing its efficiency and aesthetic appeal. With options ranging from gas and electric inserts to wood-burning options, you can transform your inefficient fireplace into a reliable source of warmth and beauty. Experience improved heating performance and an updated look as our inserts breathe new life into your beloved fireplace.
Fire Pits:
Transform your outdoor space into a gathering spot with our stunning fire pits. Crafted with durability and style in mind, our fire pits are perfect for creating a cozy ambiance and enjoying the beauty of an open flame. Whether you prefer a traditional wood-burning fire pit or the convenience of gas or propane options, our collection offers various sizes and designs to suit your outdoor entertaining needs. Gather around the mesmerizing flames, share stories, and create lasting memories with family and friends around our exceptional fire pits.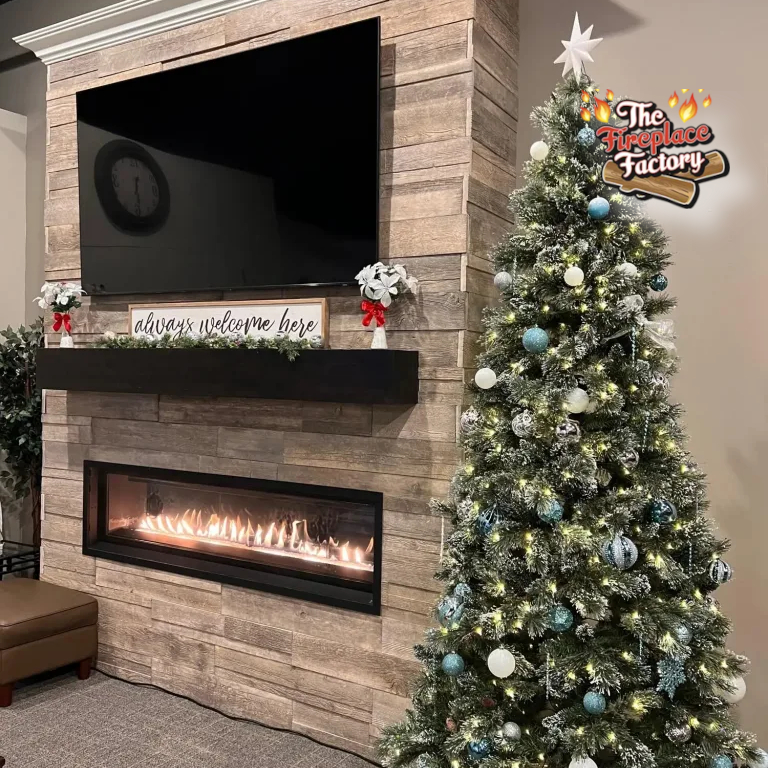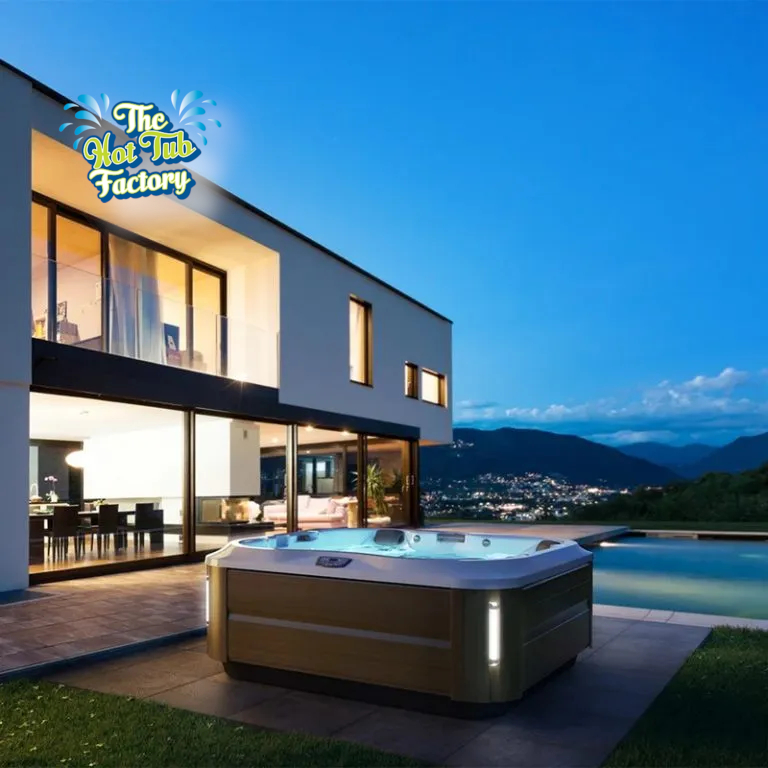 Don't Settle - Demand Jacuzzi!
Experience the pinnacle of relaxation and rejuvenation with Jacuzzi® hot tubs, exclusively available at The Hot Tub Factory. Crafted with meticulous attention to detail, Jacuzzi® hot tubs offer an unparalleled hydrotherapy experience that will leave you feeling refreshed and revitalized.
Immerse yourself in the therapeutic power of adjustable jets. Jacuzzi® hot tubs feature strategically placed jets that can be customized to target specific areas of your body, providing soothing relief to tired muscles and melting away daily stress. Whether you seek a gentle massage or a more vigorous hydrotherapy session, our jets offer a range of intensities to suit your preferences.
Unleash the power of innovation. Jacuzzi® is renowned for revolutionizing the hot tub industry, and the commitment to innovation continues to drive it forward. From energy-efficient systems that minimize operating costs to advanced water filtration technology that ensures crystal-clear water, Jacuzzi® hot tubs embody cutting-edge excellence.
Customize your oasis of relaxation. With a wide range of designs, sizes, and features available, Jacuzzi® hot tubs can be tailored to fit your specific needs and preferences. Choose from a selection of exquisite colors and finishes that complement your outdoor space, transforming it into a haven of tranquility and elegance.
Don't settle for anything but the best. Demand Jacuzzi®.